Fire Extinguisher Servicing Birmingham & Solihull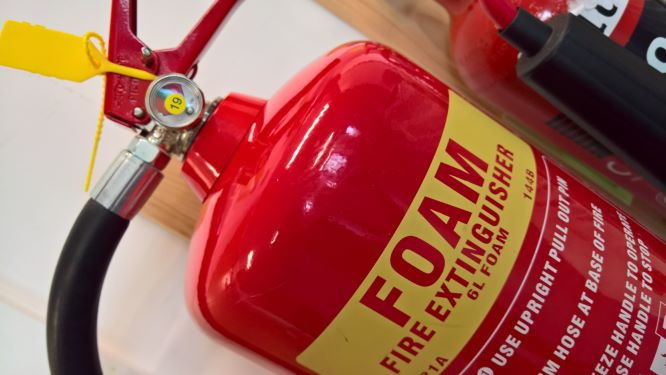 Onguard Fire Protection provides fire extinguisher service and maintenance across the West Midlands and Warwickshire for all kinds of workplaces. Our engineers can service virtually any type of fire extinguisher and carry a large range of service exchange and new extinguishers so that your premises are never under‑protected.
As well as making a provision for fire extinguishers, all efficient fire extinguisher maintenance and servicing should be in accordance with BS 5306-3 2017 and part 8 2012. This is a legal obligation and falls under the
Fire Safety Order of 2005 and is outlined in article 17 of the Order. It will also keep your equipment in good working order and make sure they are always located in the correct places within your environment.
When you purchase fire extinguishers on the internet, there is still a requirement to have them commissioned by a competent person.
This means that you could end up spending more when you wanted to spend less.
When you buy fire extinguishers from us, you get more than just a new extinguisher – you get a complete, end-to-end service.
Onguard Fire Protection make sure you are left 100% compliant with
UK fire extinguisher regulations, not to mention insurance requirements.
Our aim is to make Purchasing fire extinguishers affordable, simple, and quick for all types of business, no matter how big or small.
Our engineer will:
Report to the authorised person and explain the reason for the visit.
Ask for details of your Health and Safety policy, any other site requirements and your fire log book and fire risk assessment, to identify any actions required.
Service the fire extinguishers in line with the appropriate British Standards, and fire blankets to fire industry Code of Practice.
The maintenance label on every extinguisher and fire blanket will be completed with details of the service.
Provide a Certificate of Inspection on completion, clearly identifying the activities completed, the condition of the equipment and all spare parts used.
Advise on upgrades to meet the latest British Standards and keep you up to date on changes to fire regulations.
Email an electronic copy of the certificate of inspection if required.